Resin Hand Assemblies
Resin Hand Assembly
Each Resin Hand Assembly comprises a central resin palm block with 5x0.71mm twisted aluminium wire fingers, multi strand twisted aluminium wire wrist & K&S Forearm Assembly. Each hand comes fully assembled and fitted to your armature and the fingers can be cut to length as required. The wrist is held onto the forearm using a centre pop indent allowing the hand to be removed if required.
These hands are comaptible with the CUZIN Y; X; H1; H2; H3 Armatures and the INDY H1; H2; H3 Armatures. Unfortunately the hands DO NOT fit the CUZIN H4, CUZIN H5, INDY H4 or INDY H5 Armatures.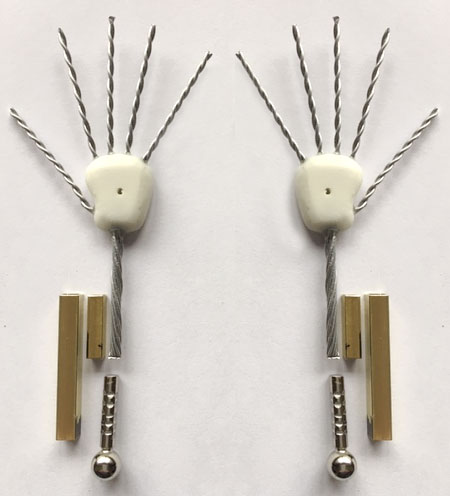 Resin Hands - howing components prior to assembly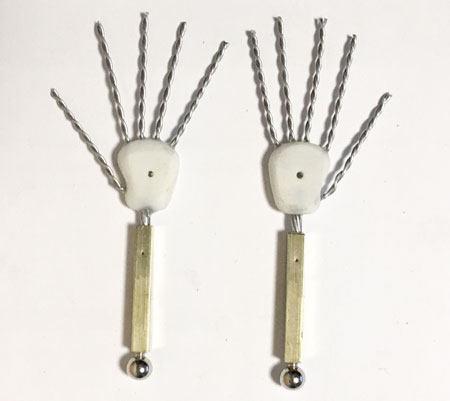 Resin Hands - shown as a pair - supplied fully fitted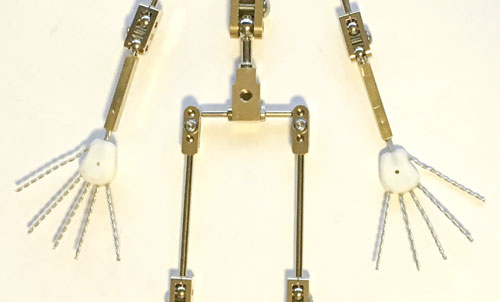 Resin Hands fitted ready for trimming fingers to size
Resin Hand Assembly (Pair)
Drawing Number MA-221
Parts List Item PL-208
£25.00
---
For more information about making your own Basic Wire Hands - click here